Hi guys! It's Soph from GirlvsWorld here. I blog about a lot of different topics ranging from beauty and books to mental health and university. You can also find on Instagram, Pinterest and Twitter, which I'm always super active on every day! So, firstly, I'd like to thank Kyra for giving me this wonderful opportunity to guest post on her blog. I adore all her posts and you guys always seem super lovely in the comments, so I can't wait to share the reality of being a graduate during Covid-19 with you guys.
I actually have a blog post on my own blog called Postgraduate Life Update During Covid-19, which explained how I was feeling when the lockdown first hit and I had just finished university. this post will be a lot more based around how the whole year has been and what I have ;earnt during this time as a graduate during Covid-19.
It's no secret that the year of 2020 was a disaster and very different for a lot of people. The majority of people had to alter their lifestyles massively and it had a huge affect on what their year would usually have been like, if Covid didn't exist. This is no different for graduates, in fact it was probably slightly worse and even more confusing than it was for other people.
Graduates would usually have their graduation, get to end university in a normal way and say goodbye to their peers and transition away from uni life slowly and with more stability. However, graduates of 2020 basically had to end university unexpectedly and suddenly, which was extremely confusing for a lot of us. So, in today's post I'm going to be talking about the reality of being a graduate during Covid-19. I hope you enjoy!
The reality of being a graduate during Covid-19
It's no secret that it's been way harder to find a job during Covid-19 than it usually is. Either people are on Furlough or they are being made redundant as a lot of companies simply can't afford to keep their own staff, never mind recruit new ones. I'm still in my part-time retail job that I had just to get me through uni, which I never in a million years expected to still be working at. I simply can't risk joining another company during Covid, as if anything goes wrong or we go into another lockdown it'll be the newest member of staff they have to let go. I'd rather stay in my part-time job until Covid calms down than end up completely unemployed.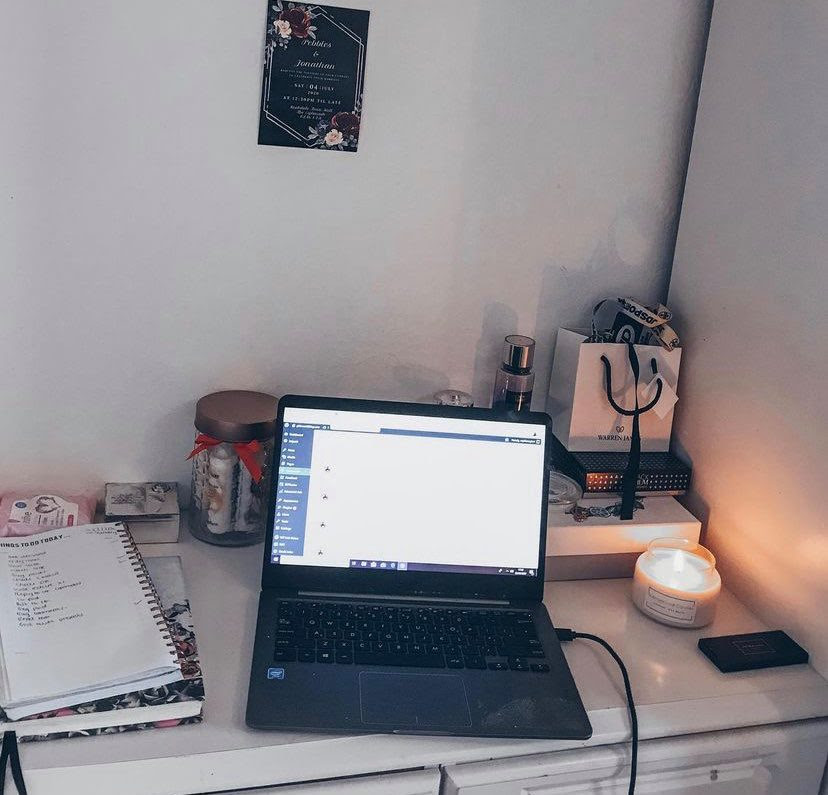 This is massively different to how I expected my postgraduate life to be, as I honestly thought I'd be in a grad scheme or a full time job that had something to do with my degree (Sociology). As I'm currently furloughed, a lot of my days are sat at home in bed or at my bedroom desk writing blog posts and creating Instagram and Pinterest content, but that's fine as that's the stage of life I'm in at the moment. I'm trying to be easy on myself currently and remind myself that everyone is finding life more difficult than usual at the moment and I don't have to be massively productive every single day.
If you are also working from home at the moment or doing university work at home as you can't access the library as you usually would, I have a blog post sharing my Minimalist Desk Setup Guide and Amazing Home Office Tips During Covid-19that may help you out! Sometimes it can be really difficult looking at other people in my position and see the thriving in new careers, but it's important to remember than everyone is in a different stage of life and everyone progresses at different times. There is no point comparing your life sot someone else's when you're both on completely different journeys!
So, that's my experience of the reality of being a graduate during Covid-19! I really hope you guys enjoyed my post and can resonate in some way, as I don't want any graduate to be feeling alone at the moment or like a 'failure' as they haven't got their dream job yet. Trust me, you are not alone and we are all in the same boat! Your time will come, I promise.
If you ever need someone to chat to about anything at all during lockdown, my Instagramand Twitter DM's are always open and I have a blog post discussing How to Protect your Mental Health and Well-being During Quarantine, which hopefully can help anyone out who is currently struggling. Stay safe, guys, and thank you again to the lovely Kyra for this opportunity to guest post on her blog! <3